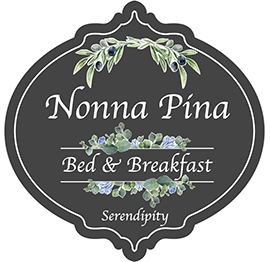 "Nonna Pina B&B Serendipity"
In Abruzzo, la regione più verde d'Europa, situato a 30km dalla montagna e 15 km dal mare, a Castelnuovo Vomano, in una posizione strategica per turismo naturale e culturale!
La città di Teramo dista a meno di 20km e con la sua provincia offre un paesaggio talmente variegato da soddisfare qualsiasi aspettativa, e a soli 160 km da Roma…..
"Nonna Pina B&B Serendipity" vi accoglierà per un piacevole soggiorno con tre camere climatizzate, tutte con bagno privato, e un'area comune per la prima colazione da gustare anche in terrazza per la maggior parte dell'anno!
Il B&B offre anche la possibilità di poter abbinare il soggiorno con programmi di allenamento presso la "palestra ellenica" ….
"Nonna Pina B&B Serendipity"
is located in Abruzzo, the greenest region of Europe, at 30km from the mountain and only 15km from the seaside, in Castelnuovo Vomano, in a very strategic position for any type of tourism, naturalistic and cultural!
The city of Teramo is at fifteen minutes by car and it offers a great area with a rich landscape ready to satisfy any expectations. And at only 160 km from Rome…
The "Nonna Pina- Serendipity" B&B will welcome you offering an agreable staying, with three ensuite rooms, all air-conditioned, and a coomon area for breakfast that you will possibly enjoy also in the terrace many months a year!!!
The B&B can offer you the possibility to combine your staying with sport session in the "palestra ellenica" gym nearby !
B & B Nonna Pina Teramo